Originally Published by GAPGOLF.org.
HELLERTOWN, Pa. — Brian Bergstol is no stranger to U.S. Open Championships held at Torrey Pines.
In 2008, a few months after turning professional, Bergstol qualified and competed in the 108th U.S. Open held at Torrey. Wednesday at Steel Club, Bergstol's journey back to San Diego began with medalist honors in a U.S. Open Local Qualifying event.
The longtime Shawnee Country Club teaching pro fired a 1-under 70 to take the day's low honors over a field of 62 national championship hopefuls. He was the lone player under par on a pristine, yet challenging, course.
Also punching tickets to Sectional Qualifying was Huntingdon Valley Country Club's Andy Butler and Northampton Country Club's Zach Juhasz, who both finished at 2-over 72. The final of four spots went to professional Nemanja Savic, of Raleigh, N.C., at 3-over 73. The day's first alternate spot went to Merion Golf Club's Peter Bradbeer after a birdie on the second playoff hole. Northampton's John Dimler grabbed the second alternate position.
The 121st U.S. Open will take place June 17-20 at Torrey Pines.
The medalist's round went sub-par for the first time on No. 3 (par 4, 389 yards) after a 77-yard wedge approach rolled out to six feet and the look for 3 was converted. The next came on the par 5, 557-yard 5th, where Bergstol blasted a 3-iron into the left greenside bunker, dug out to two feet, and tapped in for birdie. He made the turn at 1 under.
"I missed a few good looks to start from inside eight feet. That was disappointing," said Bergstol, of Nazareth, Pa. "But a lot of putts early on were really tough up there on the hill."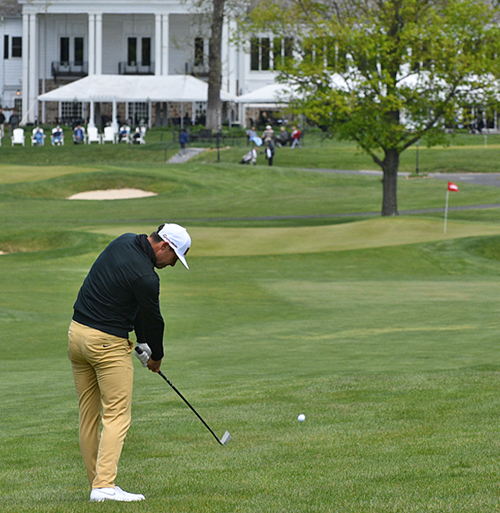 With the wind picking up, Bergstol bogeyed two of the first four holes on the second side, mixed in with a birdie on No. 12 (par 4, 368 yards). Next up, a 4-iron off the tee on No. 16 (par 3, 228 yards) came to rest eight feet from the hole and was jarred. A second consecutive red digit arrived on No. 17 (par 4, 406 yards) where a punch 8-iron from 149 yards ran up to eight feet, which would then be made for the birdie 3. Bergstol chose to play the closer (par 4, 467 yards) safe, pushing his approach shot to the right and failing to get up-and-down. However, it was all part of the plan, as Bergstol was trying to avoid a ballooned number after checking the live leaderboard.
"You know, I just wanted to eliminate anything bad there, so I kind of just played it safe and ended up with bogey," said the 36-year-old Bergstol. "I like this course. It really makes you drive the golf ball, and I believe that's one of my strengths. When the wind kind of picked up, I kind of just had to calm down and play the course."
A three-time All-American at Moravian College, Bergstol has been a mainstay in Philadelphia PGA Section events while teaching at Shawnee. Reaching the U.S. Open stage in his first year of playing professionally set a high bar, but it also set him up in a career he thoroughly enjoys to this day.
"To reach that level, the U.S. Open, right away like that, it was really cool. But there's a lot I didn't know at the time. There were things I didn't understand. Maybe like not switching out my clubs the Wednesday night before teeing off [in the Open]," said Bergstol, who says he's undecided where he'll appear in Sectional Qualifying.
Joining Bergstol in the next stage of Qualifying will be a pair of GAP amateurs, Butler and Juhasz. In addition to the GAP Majors they have penciled in on their slam-packed schedule, they'll now look for an appearance in a national championship, too.
"For me, it's just special to advance to the next stage. This is definitely an indication of where my game is at," said Butler, 25, of Philadelphia, Pa. "It's a really rewarding feeling. I'm looking forward to that it."
"Just living the dream," said Juhasz, 24, of Bethlehem, Pa. "But the job's not done yet. It's just awesome to have a chance to keep going in something this big."
GAP will next conduct U.S. Open Local Qualifying on Thursday, May 13 at Country Club of York.
GAP
Celebrating Amateur Golf since 1897, GAP, also known as the Golf Association of Philadelphia, is the oldest regional or state golf association in the United States. It serves as the principal ruling body of amateur golf in its region. The Association's 300 Member Clubs and 80,000 individual members are spread across the Eastern half of Pennsylvania and parts of Delaware, Maryland and New Jersey. The GAP's mission is to promote, preserve and protect the game of golf.
Qualifiers
Name, city, state
Score
Brian Bergstol, Nazareth, Pa.
70
(a)Andy Butler, Philadelphia, Pa.
72
(a)Zach Juhasz, Bethlehem, Pa.
72
Nemanja Savic, Raleigh, N.C.
73
Alternates (in order)
*(a)Peter Bradbeer, Bryn Mawr, Pa.
74
*(a)John Dimler, Allentown, Pa.
74
Failed to qualify
*(a)Ron Robinson, Hatfield, Pa.
74
Alex Knoll, Jim Thorpe, Pa.
75
(a)Tucker Sandercock, Bethlehem, Pa.
75
Bertus Wessels, Erdenheim, Pa.
75
Trevor Bensel, Schoeneck, Pa.
76
(a)Daniel Hernandez, Mechanicsburg, Pa.
76
Matthew Baker, Orlando, Fla.
77
(a)John Bradbeer, Rosemont, Pa.
77
Travis Deibert, Pipersville, Pa.
78
(a)Andrew Hewitt, Dagsboro, Del.
78
Brett Krekorian, Andover, Mass.
78
(a)Erik Stevens, Annandale, N.J.
78
(a)Jason Wilson, Orefield, Pa.
78
Rob Coyne, West Chester, Pa.
79
(a)Jake Haberstumpf, Bethlehem, Pa.
79
Scott Kalamar, Hellertown, Pa.
79
Lowell Miller, Easton, Pa.
79
Will Murphy, Port Murray, N.J.
79
(a)Adam Winkler, Macungie, Pa.
79
Nicholas Biondi, Moosic, Pa.
80
(a)Nathan Fry, Nazareth, Pa.
80
(a)Joey Lostumbo, Flemington, N.J.
80
(a)Lee Nonnemacher, Richlandtown, Pa.
80
(a)Bryan Ott, Allentown, Pa.
80
(a)Owen Quinn, Holden, Mass.
80
(a)Brandon Valvano, Franklin Lakes, N.J.
80
Kyle Wambold, Allentown, Pa.
80
(a)Andrew Adlard, Allentown, Pa.
81
Ryan Dick, Philadelphia, Pa.
81
(a)Mark Haghani, Philadelphia, Pa.
81
(a)Jake Maddaloni, Newtown Square, Pa.
81
(a)Kyle Pritchard, Northampton, Pa.
81
Austin Smith, Dallas, Pa.
81
(a)Joseph Altemose, Hellertown, Pa.
82
Carey Bina, Villanova, Pa.
82
Ross Brown, Scranton, Pa.
82
Dustin McCormick, Stroudsburg, Pa.
82
Chad Pfeifer, Caldwell, Id.
82
(a)Kevin Scherr, Nazareth, Pa.
82
Michael Winter, Ocean City, N.J.
82
(a)Adam Benza, Hellertown, Pa.
83
Ryan Buckley, Annandale, N.J.
83
Jason Calhoun, Narberth, Pa.
83
Jae Kwon, Little Ferry, N.J.
83
(a)Matthew Vital, Bethlehem, Pa.
83
(a)Tommy Archer, Bethlehem, Pa.
84
(a)Dave Fardon, Center Valley, Pa.
84
(a)Zach Fischl, Northampton, Pa.
84
(a)Nicholas Hano, Warrington, Pa.
84
(a)Rob Johnson, Coopersburg, Pa.
84
(a)Matt Crilley, Allentown, Pa.
85
(a)Matt Scriff, Allentown, Pa.
85
Franklin Bursick, Myrtle Beach/Charlotte/Charleston, S.C.
87
(a)Tyler McGarry, Pittston, Pa.
88
(a)Michael Lenartowicz, Easton, Pa.
89
(a)Gregory Merrick, Philadelphia, Pa.
90
(a)Jesse Bingaman, Nazareth, Pa.
WD
(a)Geoffrey Cooper, Erdenheim, Pa.
WD
(a)James Kania, Philadelphia, Pa.
NS
* – determined in playoff
WD – withdrawal; NS – no show
(a) – denotes amateur