Horseback Riding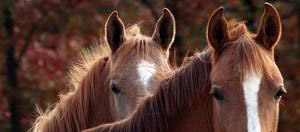 Fernwood Riding Stable
More Details
Take a trail ride back in time through the scenic Pocono Mountains. Open year-round, Fernwood's horse stables offers a 30 minute Beginners Trail Ride ($33) and a 45 minute Guided Trail Ride ($38) where you can reconnect with nature and an earlier time when life was slower on the back of a horse.
5785 Milford Rd, East Stroudsburg, PA 18302
Click here for more info
Rides offered daily 9am to 5pm October through May, except Tuesdays and Thursdays. From June through September, rides are offered daily 9am to 6pm.
Directions from The Shawnee Inn
As you are exiting the main entrance of the Shawnee Inn and Golf Resort, make a right on to River Road.
Take the first left onto Hollow Road and follow for 4.2 miles.
At the stop sign, make a right on to 209 North / Milford Road.
Follow 209 North for 3 miles and after passing through the traffic light at River Road, the stables will be on your right in .2 miles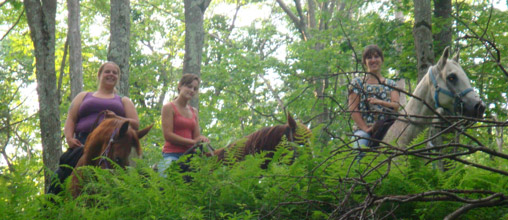 Mountain Creek Riding Stables
More Details
Enjoy a relaxing horseback ride through scenic trails, winding through the beautiful Pocono Mountains. Mountain Creek Riding Stables caters to beginners and the occasional rider, and you are always accompanied by friendly professional guides. This is affordable family friendly fun in a relaxing, laid-back atmosphere.
Our ride offers a tour through a wooded trail. Pennsylvania wildlife roam freely throughout our trail system. The Trail consists of a walk through our stream, and when you have had some time to get comfortable in your saddle, we pick up the pace a bit for a little trot. This trail is beginner friendly, and makes a great first ride. Seasoned riders are welcome to join us for this easy paced ride as well. Time on the trail is 45-50 minutes, expect to be with us for a little over an hour for signing in and instructions.
6190 Paradise Valley, Cresco, PA 18326
Click here for more info
Open seven days a week year round. Hours and availability vary. Reservations suggested.
Directions from The Shawnee Inn
At the entrance of the Inn turn left, onto River Road
Make the first right at the light onto Buttermilk Falls Road
Turn left at the next light onto 209S / Seven Bridge Road
In 1.1 miles turn right onto 447N / Independence Road
In 2 miles turn right onto N Courtland Street / 209 Business North
Continue onto 447 / Analomink Road
In 3.4 miles make a slight left onto 191N / 447N
In 6.5 miles continue on to 940W
In 1.5 miles, Mountain Creek Riding Stables will be on the right